Agenda
Click the link below to view the conference agenda.
Hotel Accommodations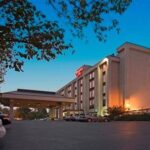 Our host hotel is the Hampton Inn Gastonia
Rate: $129/night
Call in reservation should use the code ANCA at 704-866-9090
Guidebook

We're excited to offer the use of guidebook this year. The passphrase to download the guide will be provided in the initial email communication with conference details.
The Weekend Experience
We are excited to provide a number of events throughout the weekend. Click the squares below for more details.
COVID Protocols
Brothers, your safety is our priority. All members attending the conference will need to be vaccinated. To ensure we can protect you and all other Brothers we have partnered with 42Chats to collect your vaccination card image. Check back in the coming days for details on how to get started.
Registration
**Please note, all individuals will need to register for the conference. In your registration you will be asked of your delegate status.**